5 Best Restaurant POS Systems for Mobile Ordering and Delivery
---
FEATURED RESOURCE
---
Does your present restaurant POS system integrate with mobile order platforms or apps?
Mobile technology is the mogul of the digital world. The first thing that a customer reaches for when thinking of ordering food for pickup or delivery is their 'mobile device'.
The contactless nature of mobile ordering in a combo convenience that comes with ease of browsing a menu, or making payments using mobile devices, anything to avoid long queues, has resulted in happy customers. So happy that a good 60% of online orders are placed from mobile devices. And within the next few years, mobile ordering is projected to become a $38 billion industry. Delaget's findings show that average tokens for mobile orders at QSRs and fast-casual restaurants are greater than those made in-store.
And with most orders coming from mobile now, having a clunky old POS system may not cut it anymore in the realm of restaurant mobile app development. You may now need a point-of-sale system that fits the customers' demands while simultaneously simplifying things for your restaurant business as well. Therefore, we recommend picking a restaurant POS system that has built-in mobile/online ordering features. This allows you to seamlessly integrate mobile and online orders into your existing operations, providing a convenient and user-friendly experience for your customers. By embracing the shift towards mobile ordering, you can stay ahead of the curve and capitalize on the growing trend of digital transactions in the restaurant industry.
5 Best Restaurant POS Systems for Mobile Ordering and Delivery 
Having executed a thorough analysis of some of the best restaurant POS systems including Upserve (acquired by Lightspeed), Harbortouch, Shopkeep, Clover Station, and TouchBistro, we have culled 5 of our best picks to make it easier for you to pick one that suits your restaurant business best with the help of a skilled restaurant app developer. Choosing the right POS system is crucial for streamlining your operations, managing orders, tracking inventory, and enhancing the overall efficiency of your restaurant. With the expertise of a reputable restaurant app developer, you can customize and optimize the POS system to meet your specific needs and create a seamless experience for both your staff and customers.
1. Square POS System for Restaurants
If you're looking for an easy-to-use system that resonates best with your quick-service restaurant or cafes, Square – a cloud-based restaurant pos system – is a befitting choice. Square is centered on speed and intuitive payment experiences. Its beautiful hardware – that performs gracefully with its very versatile and state-of-the-art software – fits distinct restaurant types and sizes, from small single to multi-location restaurants. What so many restaurateurs like about Square is that it can be used on a phone or tablet, in simple words, it is a convenient no-frills system.
What's more, Square lets you manage everything directly from your Kitchen Display System. It offers all the functionalities a restaurateur could ask for, offering so many tools to integrate with outside Square's own platform. Yes, it's a wholesome package including table/floor management, excellent backend management, easy and intuitive interface, various options for payroll as well as employee management, custom reporting, awesome integrations, payment and delivery options, etc.
Square for Restaurant POS + Mobile Order & Delivery
Square's mobile/online order and the fact it integrates with many mobile apps is why we have placed it amidst our top picks. With Square for restaurants, you can integrate mobile order, curbside pickup, as well as your own delivery service, or other delivery options through third-party platforms with your restaurant. Square POS solution for restaurants offers integrations with various third-party apps, Doordash, Postmates, Caviar, Cuboh, Chowly, and PoppinPay (to name a few), ensuring that the orders appear directly in the restaurant's POS and Kitchen Display System (KDS). It's what makes it a good selection. Integrations with these profer your restaurant with a centralized, streamlined, seamless, and effective, and convenient experience when receiving pick up, delivery, and takeout requests. What's more, with Square you can also tap into services like Payroll, Loyalty, Marketing, and Capital.
Let's not overlook here that Square also offers an Order API for dev folk enabling them to build solutions for sellers to send and manage in-person or in-app orders online.
If you run a full-or quick-service restaurant, bar, nightclub, hotel restaurant, or even a cafe, Lightspeed's restaurant cloud-based point of sale (POS) solution is a great choice. Lightspeed Restaurant is a robust cloud-hosted POS system that lets restaurateurs manage their restaurants from any place with the internet using an iPad. Here some key features it is offering,
floor management

managing tables and staff in real-time

customer tracking

generates detailed sales and performance reports (allowing you to track employee productivity)

inventory tracking

gift card support

offline mode

order-ahead and delivery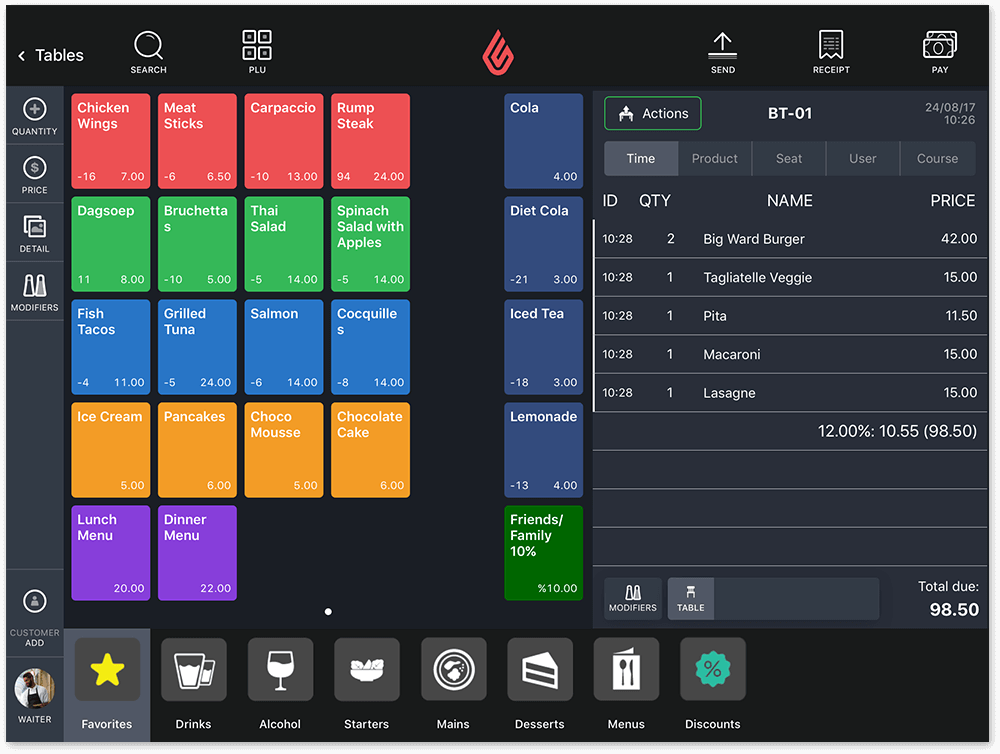 Lightspeed Restaurant for Mobile Ordering
With order ahead trending fast, many restaurateurs are opting for POS systems offering these services. Lightspeed integrates with mobile/online ordering platforms like UberEats, Skip The Dishes, and DoorDash, etc. allowing your customers to order ahead for delivery, curbside pickup, or a takeout — contactless, with no third-party commission fees. 
With Lightspeeds' POS system for restaurants, you can add a new revenue stream and engage your customers – allowing them a commission-free service – and save a huge chunk of money avoiding third-party fees by managing your own delivery. With its streamlined delivery service, Lightspeed's POS solution for restaurants preps your restaurant business for the long term and because it lets you customize as well as sync your menu with delivery platforms, you can create a delivery-specific menu based on customer data. What's more, consolidating your online orders on one single screen – KDS – Lightspeed makes it shockingly easy to manage all your orders in one place. It's just perfect.
Lightspeed integrates with various other online ordering platforms, including Ask Emma, BPL Digital Online Ordering, Chowly, City Hive, Growzer, Inventivio, Mobi2Go, Mobikon, Orderlord, and UEAT UNO app.
3. OloCloud for Restaurants
Most restaurants rather prefer Olo, this being the reason why it has climbed the staircase to success in a short span of time. More than 300 restaurant brands have partnered with Olo and at least about 70,000 restaurants are currently using Olo. New York-based Olo mostly works with large chains, including Chipotle, Five Guys and Jamba Juice, Chilli's to power their mobile and online ordering as well as pick-up businesses. Many notable restaurant establishments like Jimmy Johns are leveraging Olo's services for mobile/online orders. Olo is designed for restaurants with 10 or more locations.
Olo for Mobile Ordering & Delivery
Olo works with restaurants to design mobile applications for iPhone, Android, Blackberry, as well as mobile-optimized ordering websites that assist these restaurants in managing orders and streamlining point-of-sale operations. When you sign up, your restaurant establishment is provided with two options, you can either direct your customers to Olo's own web and mobile apps for order placement or integrate Olo's technology into your own website or apps. Olo is well-reputed when it comes to its white-label software that integrates with its in-store point-of-sale (POS) payments system as well as the website checkouts. Albeit, its offerings are somewhat similar to Square, Olo is more focused on larger chains, Square has gained traction with mom-and-pop shops.
Its app programming interface makes it easy to use the system, enabling restaurateurs to modify the system and integrate it with numerous third-party CRM and POS applications. What's more, it comes with an administrative dashboard, which enables users to enable/disable online ordering mode and get an overview of closed orders or average sales per store. Many delivery services like Uber Eats, Allset, Waitr have partnered with Olo for streamlined orders and delivery.
4. Toast POS for Restaurant
Toast Restaurant POS provides advanced capabilities to handle the restaurant's day-to-day activities, including simple menu changes, real-time business monitoring, and an incredibly simple labor-management interface. Revenue-driving resources such as digital and physical gift cards, loyalty plans, and online ordering are also available on the platform.
Toast is highly mobile, enabling servers to relay orders instantly from their Toast Go tablets to the kitchen display screen and even process payments or send invoices. Toast's flexible payment options now include a free restaurant POS software package for new customers and single locations with $0 down. With the Pay-as-You-Go plan, restaurants can keep startup costs low by including Starter Kit Hardware for $0 (just pay shipping and taxes), and eliminating monthly POS software subscription fees. The payment processing fee covers all costs, meaning Toast only gets paid when you do. The Pay-as-You-Go plan is subject to a platform fee and 2-year agreement, platform rate is 2.99% + 15¢ per transaction for both card-present and card-not-present processing.. 
Toast for Mobile Order & Delivery
Toast is an all-in-one solution offering numerous integrations across various platforms including GrubHub, Chowly, SpeedEtab, Bevspot, and Takeout Technologies for mobile order and delivery.  It works for online order and mobile ordering and includes pickup, curbside delivery, or contactless delivery that is commission-free. What's more, you get access to thousands of potential new guests and profer your regulars easy ordering at their fingertips.
5. Lavu's iPad Point of Sale System 
Lavu is considered an industry leader for having launched a new era for restaurants, bars, food trucks, breweries, cafes as well as bakeries and pizzerias. It offers a comprehensive and smart management toolset that fits in your pant's back pocket. Lavu's iPad point of sale system is one of the leading mobile POS in the market. It's the first-ever iPad system that provides premier, proprietary bar and restaurant POS systems, currently being leveraged by thousands of restaurants spread across over 80 countries. Lavu helps you increase your restaurant business' operational efficiency and decrease service time via pre-order and pay-at-POS with automated loyalty redemption.
Lavu's Relationship with Mobile Ordering
By offering order ahead or pre-ordering you can help your customers skip long queues as the order is sent directly to the POS with a countdown shown to the customer. Product information is pulled from the POS and preorder menus can be managed through the Lavu Loyalty App web console. Lavu's integrations include Chowly, Square, FoodBam, Como Sense, Postmates, Cuboh, Postmates, Menu Pad, and many more.
With more and more retailers and restaurants adopting this trend, more and more consumers are now placing fewer delivery and pickup orders over the phone or via the website and instead opting to use a mobile app. Simply because these mobile ordering apps offer several key benefits that more traditional methods of ordering over the phone or waiting in line cannot match.
Besides, it removes the aches and pains of cash transactions including counterfeit bills, cashing up, security issues – amid Coronavirus, it became a solution to apparent concerns. It encourages you to go farther than cashless because money is paid directly via an app, you can also go cardless. Given this, both for pick-up as well as delivery orders via mobile apps, but also for dine-in customers, we are likely to witness the technology used even more.
So is your restaurant business already using a POS system that works best for mobile ordering or are you looking to deploy one that does? At CitrusBits we do much more than developing mobile app solutions. Our geniuses can work with any major POS system to guarantee your mobile orders are received just as seamlessly as your counter or drive-thru orders. And if you're looking to have a custom POS system built, leveraging the extensive restaurant experience we design and build custom POS solutions that are tailored to your restaurants' unique operational needs. Have a look at a project we are really proud of. The CitrusBits team not only developed an iOS and Android mobile app but also connected the app with their existing backend POS, menu, delivery, and payments systems. Check out the case study for in-depth insights.
,
Why CitrusBits?
CitrusBits is an award-winning mobile app development agency with deep expertise in the restaurant industry. Having previously built mobile apps for Burger King, Zen Classics, and FullyRaw, CitrusBits is also building a mobile ordering app for a respected national QSR with dozens of locations across the US. CitrusBits is well-versed in the end-to-end process of creating a mobile ordering app, including the following aspects: menu systems, location-based services, mobile ordering, POS integration/creation, delivery/logistics integration, and loyalty/rewards. If you represent a QSR or restaurant chain and are interested in learning more, please get in touch for a free consultation.